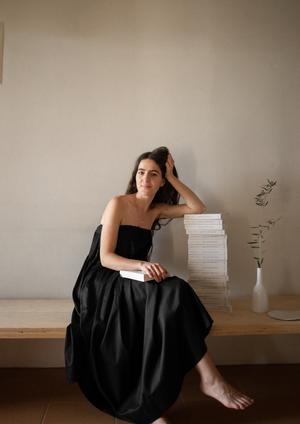 Baring herselfe, Amanda Jones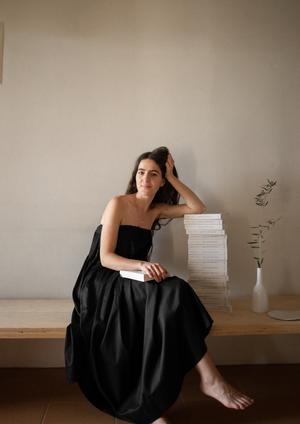 We speak with Amanda Jones, founder and director of The Honest Jones — a creative studio that specialises in what she calls "One Minute Films (non-boring films for brands, that are…well…one minute)." This year Amanda self-published a book, Diary of a Freelancer; a collection of musings and aphorisms scribbled throughout the last decade of her somewhat untraditional creative career. 
Starting you own business can be daunting, where did you find the courage and what inspired you to make the move?
It was a leap of faith. I knew I needed to quit my 'safe' job but I had no idea or plan for what was next. I was more fearless back then. I also had energy to take on any job that came through the door…and there were some strange ones.
What found me in that uncharted space was a great unlearning of some outdated ways that I had slipped into. It challenged a lot of things I had been taught about the brutality of an artistic career. I found the ways that worked were surprisingly kind and actually synonymous with the ways of a good life, which sort of surprised me.
That's when I started writing the musings that would become Diary of a Freelancer. Our film work was in a good flow and things just seemed to click. The words spilled out onto page after page of my journal pretty much exactly as they are in the book. I still have that journal.
Having a creative nature, I'm sure you have a philosophy that keeps you grounded. How would you summarise your philosophy? 
I guess Diary of a Freelancer is a manifesto of sorts of The Honest Jones philosophy. It revealed itself as I began the self-publishing process. Our team will often tease me with my own words. Many of the aphorisms like "We don't have time to be in a rush" have become sayings we repeat to each other. They definitely guide our process. 
If I had to summarise I would say "Grow well, not fast. Listen to natural rhythms. Be kind."
What does your creative process look like?  
I actually learnt the creative process through studying contemporary dance and choreography (for 3 years after high school). Later I discovered that once you know the rhythms of creating something from nothing, you can transfer it onto any art form. I've always felt like I 'choreograph' films or set designs or any of the other hats I have worn over my freelancing career. I will sort of keep rearranging things until they just click.
A very talented choreographer once taught me to start with broad brush strokes to form the overall image and then come in with some details and layer those details until you have formed a (in this case 12 minute) dance piece. Which I guess is a painting practice informing choreography, so the process really is universal.
With success comes challenges. What's been most challenging about this journey? What have you learned about yourself?
I mentioned before the number of setbacks in self-publishing has been laughable. I've had to change printers four times for various different reasons, each time going through the whole process and actually printing samples, which has been super expensive. But I was committed to printing locally, sustainably AND getting aesthetic right. I knew it was possible.
Your passion for what you do is very present, what in particular brings you joy and happiness? And how do you promote this in your life?
At the moment I'm finding joy in simplicity. I have done a lot of culling of mental clutter in the last few months. Publishing Diary of a Freelancer has been somewhat of a closing chapter (book pun) to my freelancing. As my role in The Honest Jones has changed, I've had to let go and trust my team. It has been a delightful experience, but one intertwined with my own guilt. I've had to rewrite this inner dialogue that I'm not doing enough to support them, with instead knowing I am giving them space to expand their own creative voices.
Sustainability is a term we are hearing more these days. What does sustainability mean to you? What sustainable practices are carried out in the day to day running of your business?
In short, able to keep going, to sustain. If we burn too hot, we won't last. Sometimes that means facing the reality of where you are currently at rather than where you want to be…hear me out! By running a presale for the book I was able to gauge the honest reality of demand and print accordingly. The dreamer in me wanted to print extravagant numbers of copies, however if I hadn't been honest with my actual capabilities I probably would have ended up with a house full of wasted unsold copies. Moving slow and treasuring small beginnings means less waste in the process.
We are also seeing a rise in Australian made products. How important is Australian made to you?
We are lucky to be in such a vibrant time for Australian design. I feel especially lucky to work with so many talented and driven creators. Our home is full of our friend's designs and we adore it. It brings me abundant joy to celebrate anyone who is brave enough to have a vision and bring it to life. We love to weave these tiny miracles into our everyday lives. 
When it came time to (self) publish Diary of a Freelancer, I worked very hard with local print artisans to develop a local and sustainable print process. It took a long time, print is an art form I am still learning. I am so proud to have it printed right here in our neighbourhood.
We embrace timeless, versatile, transeasonal essentials. What are your top 3 wardrobe essentials?
A linen cami, a great trench and (now) my Selfe strapless gathered dress — I may never take it off. 
Photography: Kristian, The Honest Jones